One of our Labradoodles born at Aspen Ridge has been given the name, "ICKY." He lives in Vancouver and works as a service dog. Icky's owner, Leslie Bruce, runs the business of PETS and FRIENDS which certifies dogs to go into nursing homes and other service dog activities. CBC news feautured Pets &Friends at UBC Campus performing a stress relief program for exam time. On the news feature, Icky was encircled by the university girls! His owner, Leslie Bruce of "Pets & Friends" mentioned, "People are happy when dogs are around they smile." Icky, a natural clown later licks the camera for emphasis.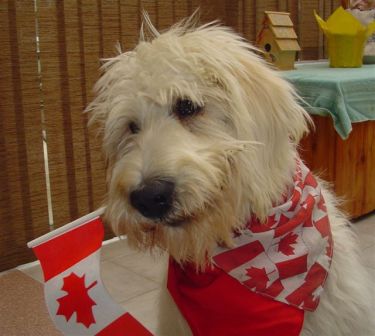 Icky is a certified service dog in Vancouver, B.C. He was also featured in the June 2010 Modern Day Dog Magazine as a puppy.
Icky has an amazing personality - he loves to share all his stuffies with anybody, be it human or canine, he always greets people with some toy hanging out of his mouth. He absolutely loves playing at the dog park and gets along with absolutely every age, size and type of dog he encounters at the park, there had to have been at least 50 dogs there today. He is super friendly - and truly does love kids - if there are any around he wants to go right over to be with them. When we boarded him for nearly 6 weeks at a dog ranch on the Sunshine Coast while we were in Australia - the couple that looked after him - referred to him as a big loveable goofball with not a mean bone in his body. - Leslie Bruce

*Other Aspen Ridge Labradoodles have also achieved Service Dog status.
Labradoodles for sale, Kamloops,BC., Red, Apricot, Cream, Chocolate, Black, Labradoodle Puppies for Sale.