Pepsi of Urban Poodle
Pepsi is our handsome CKC Purebred Moyen Poodle to bring in our beautiful F1B line.
He is co-owned with our friends at Urban Poodle.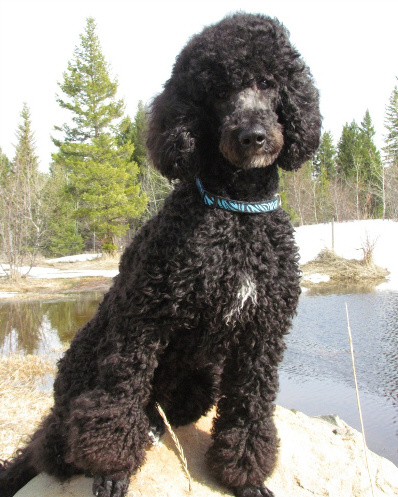 Registration:

WALA00012426

Size:

19″ tall, 30 lbs

Coat:

Fleece, non-shedding

Colour:

BB,ee,S/Sp, KB/Ky, At/Ay

Grading Scale:

Standard (Moyen) Poodle

Dam:

Adonai Kiara Shaya

Sire:

Laurel Hills X Marks the Spot

Temperament:

Cheerful, Loving and Loyal

Health Clearances:

OFA Hip Prelim Good,
OFA Elbows Normal
OFA CERF Normal

Clear:

PRA, VwD, NEWS & DM


Coat: F/F
*AVAILABLE FOR STUD
Labradoodledoo Buster Brown
Buster is our handsome Australian Labradoodle from therapy lines.
He is super "in tune" with any emotional or physical illness and is right there to see
if anyone might need extra cuddles. He loves puppies and children and allows
any amount of handling with a goofy grin. Cuddles are welcome at anytime!
We are super excited to see his personality coming through to future offspring.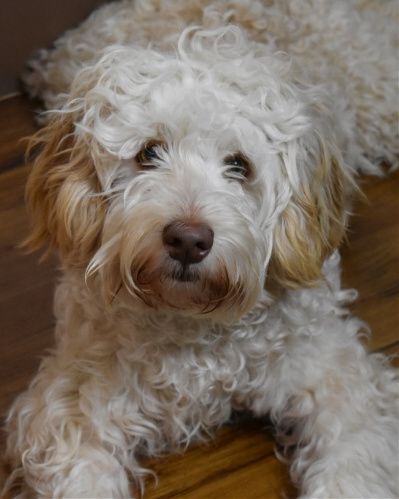 Registration:

WALA00013938

Size:

16″ tall, 30 lbs

Coat:

Fleece, non-shedding

Colour:

bb,ee,KB/Ky, Ay/a

Grading Scale:

Australian Labradoodle


Dam:

Labradoodledoo Velma

Sire:

Annabelle's Furfurvergnugen

Temperament:

Mellow, Happy, Adaptable, Calm

Health Clearances:

PennHip: Right DI 0.55, Left DI 0.51
OFA Elbows - Good
OFA CERF Normal
Clear by Parentage:PRAprcd, VwD, NEWS,DM, EIC
Coat: F/F
*Not available outside our breeding program.
Companion Creek Aspen's Chip O' Gold

Chipper is our amazing "little guy." Our youngest daughter has trained him since he was eight weeks old to be her therapy pal. He quickly learned when his vest is on to be amazingly still on her lap and walk closely by her side. When the vest is off they can be super silly together. He likes to do dog puzzles and cocks his head sideways to study how his humans solve the puzzle and then tries to do the same motions! So neat to watch!! What a super "little guy!" We look forward to meeting his offspring!
Registration:

WALA

Size:

12″ tall, 15 lbs

Coat:

Fleece, non-shedding

Colour:

bb,ee, sp/sp

Grading Scale:

F1B Labradoodle


Dam:

Companion Creek Hazel

Sire:

Hall's Toy Story Parti

Temperament:

Happy, Connected, Intellegent

Health Clearances:

PennHip: Right DI 0.55, Left DI 0.51
OFA Elbows - Good
OFA CERF Normal
DNA Clearance:PRAprcd, VwD, NEWS,DM, EIC
Coat: F/F