Celebrating 11 years of Raising Precious Labradoodles!!
If you are one of our Aspen Ridge Labradoodle families we have kept this page for you.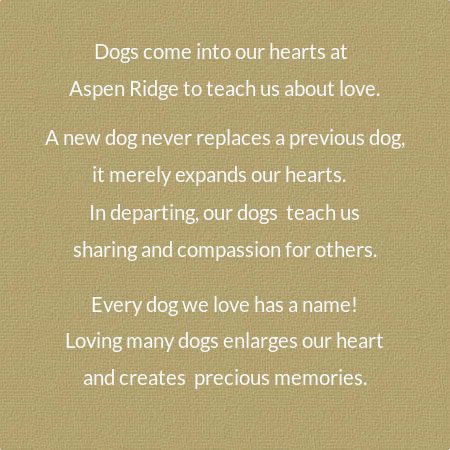 Scroll Down and Enjoy

In Loving Memory of the Best Labrador Retriever Ever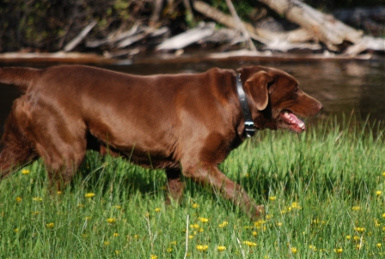 Sheena ... Larissa's dearly beloved foundation dog. We chuckle and say Sheena brought Larissa through school by being an ever present helper ready to run the kilometres of energy out of a schoolgirl so she could sit for her lessons. Sheena attentively listened to every word Larissa ever spoke to her. Their bond is forever treasured for a lifetime. Sheena was beautiful with a strong loyal attitude and a great big heart! She passed her characteristics on faithfully to four generations here at the ranch. Sheena passed on in Winter 2016. We miss her dearly. Sheena is mother of Pansy, Dolly, Gemma and Melody shown below. Grandmother to Star. Also Grandmother to Lady and Great Grandmother to Darla. (Scroll down to view ofspring.)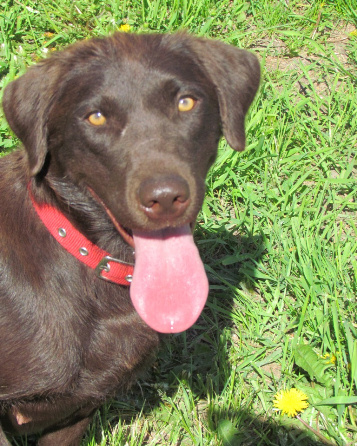 Rosey came to us from a special family in Oregon.
She had one very beautiful chocolate F1 2017 litter for us here at
Apsen Ridge with Her best buddy Carlos a chocolate Standard Poodle.
The two of them have now travled all the way to Nova Scotia to
live with another special family at Harding Brook Kennels!!
We feel so blessed to have been a part of their lives for a time.
May their beautiful puppies grow into wonderful companions :)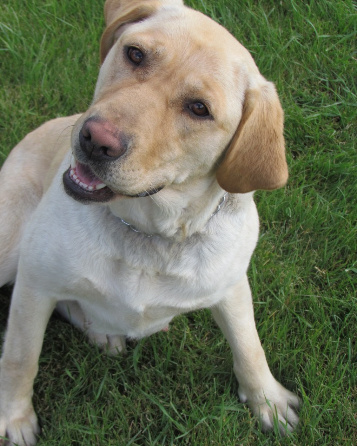 Lady Marjorie came to us from a special family in Oregon.
She had one small amazing therapy quality F1 2017 litter for us here at
Apsen Ridge with Prince. Her baby Talia will be Larissa's therapy
trained Labradoodle. Her second baby Teddy is joining a child
therapist in working with special children.
Lady Marjorie is going on to live with a family in Prince George.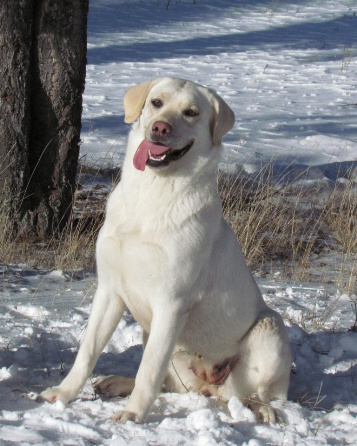 Lady Tatiana (Tina) came to us all the way from South Carolina. We
were searching for beauty and brains to bring in a new therapy line of

Labradoodles for Larissa. Tina blessed us with 2 beautiful litters
several of which have gone into therapy work.
Her daughters Mandy & Lena are the beginning of Larissa's own
breeding program ABIDING COMPANIONS.
Tina is now moving on to our friends in Prince George to be loved and
cared for like the queen she is.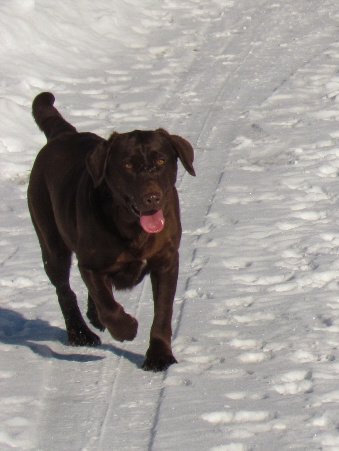 Pansy daugher of Sheena is now retired after having 3 very special F1
labradoodle litters. She has been the sweetest mom with lots of love to
share. Pansy now shares her life with a family with children on an
acreage outside of Prince George and is very happy there.
Her daughter Star carries on her heritage here at Aspen Ridge.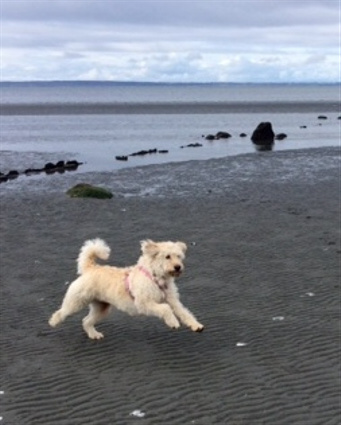 Gemma is the offspring of Sheena and Cooper.
She is quiet and gentle natured and is a deeply devoted girl.
She has provided families with incredible family companions
with her well behaved litters.
Our sweet Gemma is now retired and has been welcomed
into Wendy's home and enjoying the special priveleges
of retired life.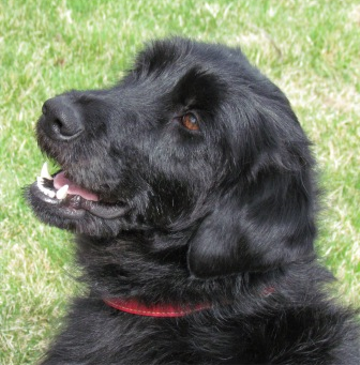 Dolly daugher of Sheena is now retired after having 2 F1b
Labradoodle litters and 1 Multi-Gen litter. Dolly is always full of kisses
and loves a good adventure alongside her family. She was a very
careful mom sure to count every puppy and my .. those puppies were
licked cleaner than any other puppy alive! Dolly is enjoying a life of
luxury including her owner's bed in Calgary. Her daughter Lady and
grandaughter Darla carried on her heritage at Apsen Ridge!
(Lolly on Our Dogs is also Dolly's daughter and Sheena's grandaughter)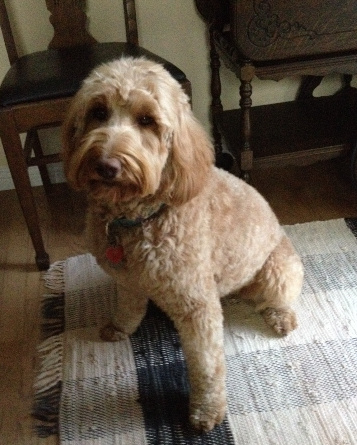 Lady Sophie daugther of Dolly and grandaughter of Sheena (above)
is now retired after having 2 beautiful and sweet natured Multi-Gen
Labradoodle Litters for Apsen RIdge. Lady lives with her adored
companion Deryn and enjoyes the lap-time and cuddles along with
ongoing conversations and walks that make up her daily routines.
We are so happy to still be able to see Lady Sophie every now and
then!!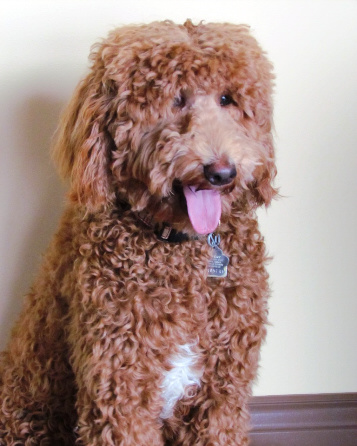 Sweet Darla is daugther of Lady Sophie grand daugther of Dolly and
great grandaughter of Sheena. in above photos.
Sweet Darla lives in a guardian home in Kelowna with
Janet & Craig. Her family say she is the best dog in the world!!
She loves everyone and adores the grandchildren of the family!
Darla had one Multi-Gen Labradoodle litter for Aspen RIdge
Labradoodles! We are so proud of her. :)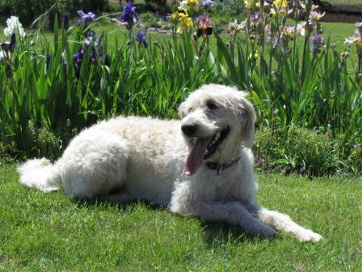 Melody lived in a guardian home from puppy age. Melody is Sheena's
daughter. She had two incredible F1B litters for Aspen Ridge.
What a happy go lucky comical girl. Her forever family in Vernon is
enjoying Melody's retirement. She keeps very busy bringing up four
ambitious Aulin children!!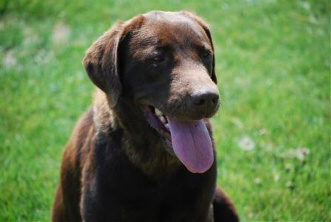 Casey is Kerry's dam. Casey lived on our ranch for two years. She loved
hiking and swimming. Casey had one litter of sweet Labradoodles for us
before moving to her forever home at the coast.
Kerry is Casey's offspring. (shown ABOVE) She has a very
gentle temperament and is a sweet, loving dog! She had two
litters for us. Her first litter was sired by Cooper and her
second litter was sired by Robby. She is now retired to live
with her special people in Kamloops! She enjoys long walks
and a special hide and seek game with her owner. Her
daughter Maggie and Hazel carried on her heritage here at
Aspen Ridge.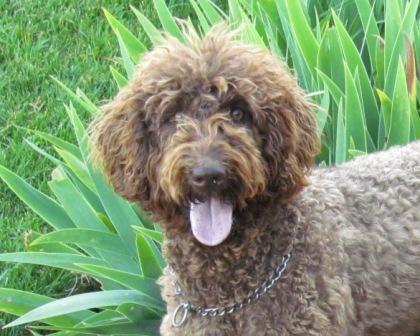 Maggie is Kerry's offspring. She has the same very gentle
nature of her mom. Maggie loves to be constantly by your side
and her head in your lap is even better. Maggie was a
supermom of her 3 litters of puppies. She loved to have them
sleep on her paws and even on top of her head! Maggie is
going to live with a loving family in Kamloops and spend her
week-ends and summers at the lake!!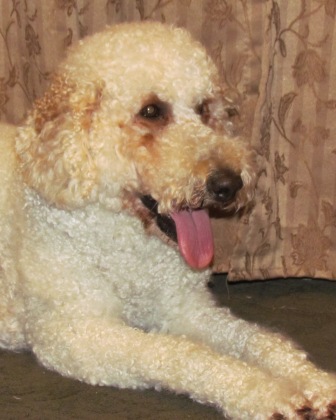 Hazel was our sweet Labradoodle born here on the ranch daughter of
Kerry. (above) and Cooper. Hazel had one litter of absolutely adorable
puppies and is going to the perfect family in Surrey to be their forever
dog! Now she has the spoiled city girl life with lots of dressing up!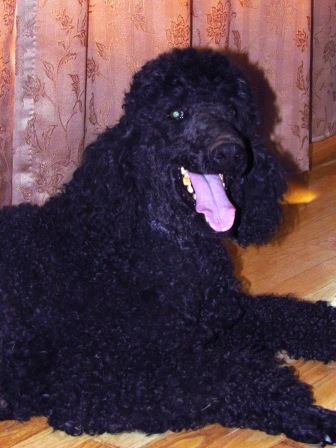 Duchess was our Purebred Poodle from the coast. She had one litter of F1
Labradoodle puppies for us and then found the perfect family in
Kamloops to be her forever people.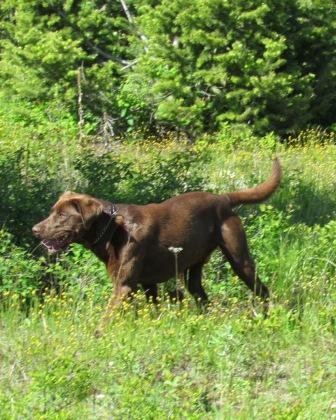 Roxie was our Purebred Chocolate Lab from the coast. She had one litter
of F1 Labradoodles for us and went on to enjoy life on another ranch with
a family.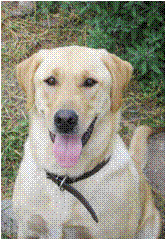 Kita was our Purebred Yellow Lab. She had one very energetic F1 Labradoodle litter. A young boy
claimed her as his own to be his very own "Marta the Talking Dog" and from then on she had
more treats than she imagined possible!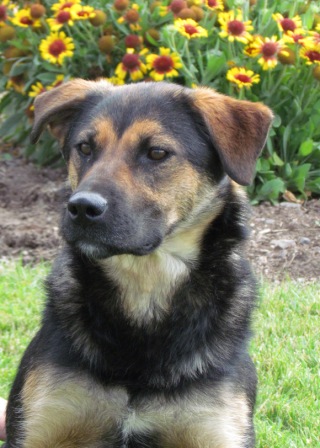 We cannot forget Faithful Trixie our Lab Shepherd cross who gave us three
litters of super family puppies "Labrashepadoodles" for those who loved the
Shepherd in the mix of doodle. These pups were super quick learners and
adapted well into their families. Trixie is now a loving guardian for some
little children who live very rural.
Labradoodles for sale, Kamloops,BC., Red, Apricot, Cream, Chocolate, Black, Labradoodle Puppies for Sale.