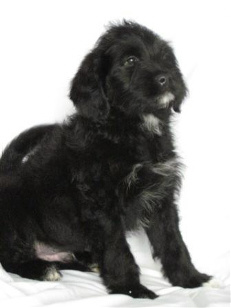 Hello from Prince George, Smiley had his shot the other day and he was so good for the vet. The vet gave him treats and he didn't even know he had a shot. The vet said he was in really good condition. We have another appointment for one month from now. My last dog Mitzy hated the vet. I taught Smiley to ring a bell to get outside. He does his business pretty much on command. He can sit, lay down, shake a paw, fetch his ball and bring it back. He is working on staying. He is pretty good at coming when called. He learns Incredible fast. He is precious and we are having so much fun with him. The Kuz Family Trixie Puppy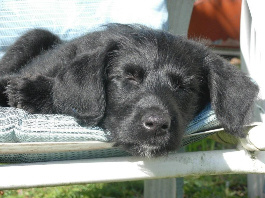 Hello from Maple Ridge!
I just wanted to let you know that Ceilidh is doing great! She's such a smart and loving puppy! We snapped the attached photos today: she met her cousin, Capone, the pug, and then went for a run with her new buddy, Omar the labradoodle. She has tons of energy and loves meeting everyone she sees!
She's mastered the "sit," "come" and "park time" commands (okay, "treats" too!). And she loves playing hide and seek in the family room. We tell her "Go hide!" and she runs around the ottoman, between the couch. She flattens herself against the floor, then pounces when we say "Boo!" It's too funny! She also loves being in the workshop with Dave... she even has her own little couch to lie on.
We've received countless compliments about Ceilidh... everyone loves her look and personality. We've recommended Aspen Ridge to everyone that compliments her.
Thanks again for such a wonderful little pup! Leiliani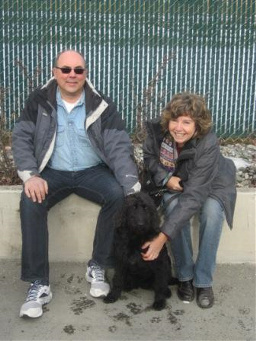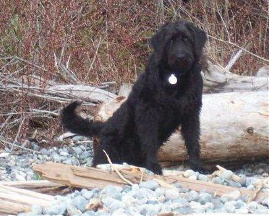 All is very well. Gerry started in the back seat, but gradually made his way, bit by bit, until he was in between us and halfway on my lap! He rode very well once he'd made that arrangement!
Thanks for everything. Se
nding along a few pictures of Gerry at our cabin this past weekend. He really enjoyed it there. He went out with the guys into the forest behind our place to do some surveying, but wasn't invited back the next day after he chewed through the tape measure and stole their gloves.
Lots of fun!
Gerry is a great traveller, even on the windy road up the Sunshine Coast and on the ferries. We added a picture of Gerry at the coast.
Donna and
Dave Pansy's pupp

y
Hi guys!
Thought it was about time we gave you an update on our wonderfully adorable/loveable/brilliant puppy Cruz. He travelled to Alberta with us back in August like a total champ and made himself right at home. He is genuinely a perfectly rounded dog: sweet, playful, cuddly and handsome. We couldnt have asked for a better addition to our home!
Cheers! from Alberta ~Pansy's puppy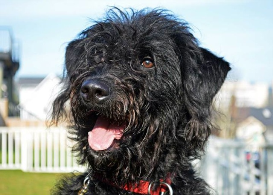 We have been very quiet for the last while but are always thinking of your family Miss Nellie-Bell is about 68 lbs. with a sweet disposition & loves squirrels. As you can see our Nellie is a special little girl and loves to be spoiled by all. Rick
Trixie's puppy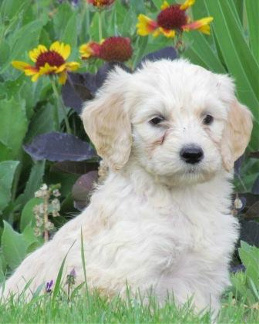 We are absolutely in love with Ginger!! She is an a amazing dog!! I was surprised with how great she really is, she is quiet, gentle, happy, and listens great. My kids just love her to pieces!!!! What a perfect addition to our family! Kendra Dolly's Puppy
Rosa is doing great she is going to be a very good dog! Brian Pansy's puppy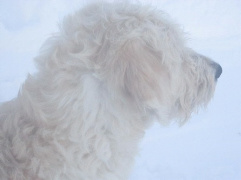 Hello from Sascatchewan,
It occurs to me that it has been a week now, so thought I would give you a progress report. Ollie (now Lugh), seems to have adjusted well. He is very affectionate, and his manners are good for a six month old! Fortunately, he is very good about having his feet dried, since there is lots of snow for him to play king of the hill, and now he always wins! He is learning about city living, and is doing well with traffic noises, neighbours etc, although he keeps barking at the one neighbour (just the one, but it's not my favourite neighbour either...). I am really enjoying his company, as is my son. The grandchildren like to hear stories about his antics. Next weekend we will go to Regina so that more family (people and dogs) can meet him. Deidre
Pansy's puppy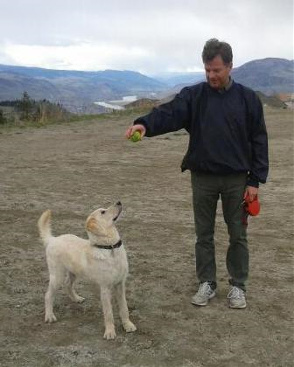 We named him Howie! It suits him and he is amazing. He took to the house really quickly, was very quiet the first two days so when he actually barked, we were shocked! He's learnt so much in the past week; He sits on command and he is just a very good dog. We have more or less trained him not to jump up (we just turn away from him and ignore his behaviour we don't like...that didn't take long!) He gets lots of hugs and attention and has his spot in the living room. He does not bark when we are out. He has had no accidents! He has his water, and all his stuff with him in a bright room which he can look out to the yard and he gets a prime view of the city from there! His own perch! So, all in all, it's going very well! I am amazed how quickly he has settled in and how good he is. He has lots of toys, chewy things and he sleeps next door in our laundry room and has not complained at all. He is quiet at night, unless he is startled at one of the boys coming home late and may bark...but they are learning too! We love him soooo much and he is so spoiled. He is such a good dog. Dan gets him out two times a day for hikes and I try to get out for one of those work schedule permitting (not liking this torrential rain right now as it makes out outside time limited!!) He loves playing fetch, thank God for dollar store balls as we have lost several already. We planned a trip so hopefully he can come and spend a couple weeks with you all while we are away...I just can't imagine him going anywhere else. We definitely feel so protective of him and want to know he is in good hands!
Claudia and Dan
Pansy's puppy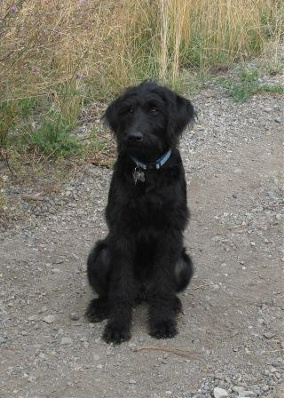 Our family loves Cole (previously Troy) to bits. He slept through the night from the first day we got him. Cole is now 4 months old and was fully housetrained by 3 1/2 months. He is quick to learn, gentle and calm. Even our vet wanted to know if he was always that calm. Cole loves playing "go find". He surprised everyone even himself when he first barked, because he rarely does. When he greets people he has a nice disposition and is not overbearing. We enjoy hiking in Peterson Creek and he plays well with other dogs. Sometimes we forget that he is a puppy as he is so well mannered. Cole has been a wonderful addition to our family. Thank you. The Jeffery's - Kamloops. ~ Pansy's puppy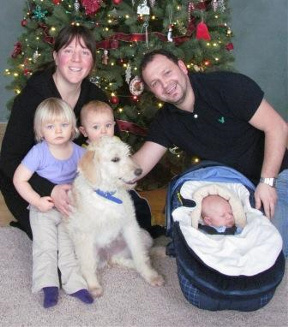 We hope that you and your family had a wonderful Christmas. We have been so blessed by having Zara in our family. My uncle has fallen in love with her too and he will stay with her while we are in Edmonton. After that she will travel with us. We are having a wonderful time with Zara. Everyone has fallen in love! The Grigore family Dolly's puppy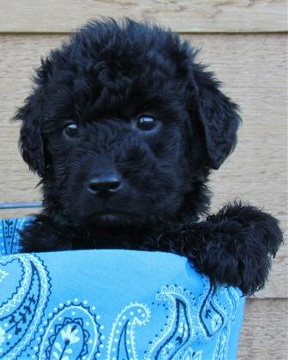 It is Nicole and I just wanted to send you a quick update on Echo. He has become a wonderful member of our family. He is extremely smart, he learns new commands extremely fast, and very sweet, he loves to play with my children. As long as he gets a good walk and some outdoor play he listens very well and is a joy to have around. He loves to go for hikes and is great off leash, we try to hit the trails every day. The only place we tend to go on leash is up to my kids school and he is so excited to see all the kids I have a hard time containing him. He is good with other dogs, his best friend is Luna, a boxer who lives next door. He has a lot of puppy play in him and often make us laugh. He still loves to play fetch. Did I mention that he is soft and silky and adorable? Nicole Trixie Puppy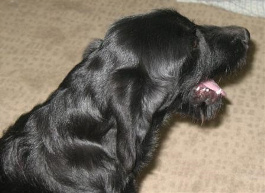 Hey from Kamloops,
sorry it's taken so long to get back! Just haven't been on the email much. He's amazing! Best dog ever! If you would like we could meet sometime and you could see him. He did get a new name, it's sam. But not a problem at all with him. Hes perfectly healthy and plays great with everyone. I met his brother the other day at the river. They look not too much alike but could tell there brothers for sure, it was the one that lives at Sunpeaks.
Thanks David.
Duchess' Puppy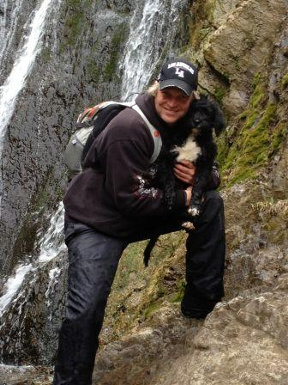 Ozzy is doing very well. Growing every day. He's become the neighbourhood stop for everyone on their walks. The cats are still adjusting. Ozzy wants to play but they are the least bit interested! The kids are enjoying him but I think Rob is enjoying him the most. They have become quite the hiking pair. I will send you a recent photo of them. Rob is so happy to finally have another male in the house! Shaw family
Trixie's puppy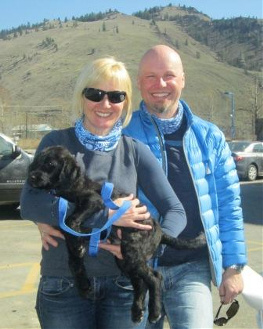 Hello from Vancouver Island
I would like to give you a little update on our new boy. We named him Emile. He's a cutie who is very inquisitive and bright. He loves the beach and already ventured into the ocean. He likes to snuggle a lot and enjoys belly scratches. We are happy that he's adjusting very nicely. Thank you, Mark and Macy
Labradoodles for sale, Kamloops,BC., Red, Apricot, Cream, Chocolate, Black, Labradoodle Puppies for Sale.