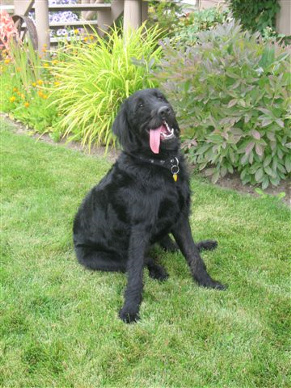 Paco lives in Surrey, B.C.
Recently, I brought Paco to our choir camp - The kids played fetch/ball with him non-stop. I actually had to make them stop several times so that Paco could rest a little and catch his breath. Paco is so good with children! He let them pull his tail and his ears, and even let them ride him - with no complaint! Jen Canonyan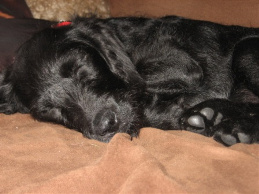 Rozee lives in Vernon, B.C.
Rozee is great and we love her very much. She is a very sweet gentle spirit, a little timid, adores fetching the ball, loves the water. When I first introduced her to it, she didn't hesitate for a second, just ran right in. She loves to run, and outruns every dog in the dog park. She is about 55 pounds now. She likes people, cats and dogs and she is socializing well, but will also let us know when she doesn't like a person or doesn't recognize a person who is coming to her door. Very smart, very gentle. She is an awesome dog! Cyril & Kara Barkved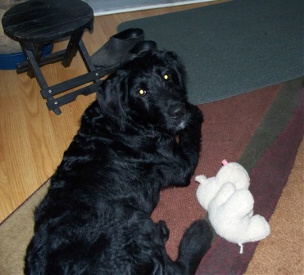 Beamer lives in Kamloops, B.C.
I just wanted to let you know how much we love our Beamer! He is such a lovely puppy, from the first night he has slept through the night without as much as a peep, he goes to the door when he need to go outside, he has gone on long walks with Rolf and everyone in the neighbourhood loves him. He loves to play fetch and as you know retrieves, it's been many years since we've had a dog that brings the ball back :) We can tell that you and your family spent a lot of time with the litter and that's why he's such a special puppy! Thank you so much for such a wonderful puppy! We love him so much. Thanks again, Doreen and Rolf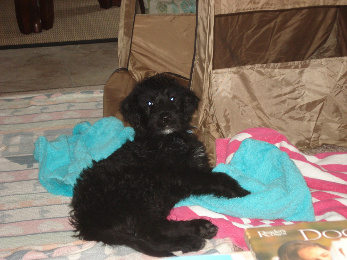 Blu lives in Kamloops, B.C.

Blu is doing well. He keeps us busy and happy. Jill & Ed.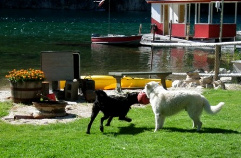 Ellie lives in Lillooet, B.C.
Ellie is a wonderful pup. We call her our jumping bean, she get's along well with our other dog. These pictures are right after they had a swim. J & M DeStrake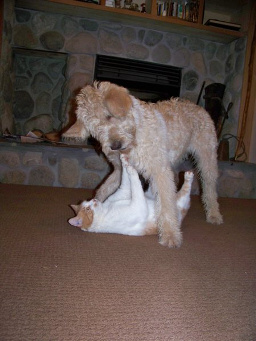 Tasco lives in Vernon, B.C.

Tasco is doing great. She is very much loved by all of us. She is a very funny dog and is always making us laugh. She loves the water, the muddier the better! Our cat loves to play with her. What really surprised me, is that she instinctively seemed to know that she should be quiet in the house. She will chew on a toy, or watch T.V. (actually watch T.V.) but she will not run and play in the house, I've tried everything, since it has rained a lot this week, needless to say, we have gotten pretty wet outside, and she seems to really enjoy the rain. I am very pleased with her, and am confident that she is the dog I need for my boys, when they are out on the property. -Vogrinetz Family

Madison lives in Kamloops,B.C.

"Maddie is awesome! She is our sweet little baby! She is full of love and very playful and thinks she is a lap dog. Oh, who am I kidding she IS a lap dog! " - Donna Easton
Client comments with no photos available:
Sam is amazing! Best dog ever! He's perfectly healthy and plays great with everyone. - David Scopick

We love our dog, Marty. He is like a cuddly bear. He loves our children and already misses them if he can't be with them. He has really bonded with my husband. We are so excited to own him because he fits so well into our family! ..... Marty is great..... he's 8 months now and he's a big boy.....doing really well. He loves his walks, and gets on with others really well....we've had really good comments about him....saying he's one of the better F1 Labradoodle dogs they've seen. Sarah & Family in Vernon, B.C.

Echo has become a wonderful member of our family. He is extremely smart, he learns new commands extremely fast, and very sweet, he loves to play with Avery and Nate. As long as he gets a good walk and some outdoor play he listens very well and is a joy to have around. He loves to go for hikes and is great off leash, we try to hit the trails every day. The only place we tend to go on leash is up to Avery's school and he is so excited to see all the kids I have a hard time containing him. He is good with other dogs, his best friend is Luna, a boxer who lives next door. He has a lot of puppy play in him and often make us laugh. He still loves to play fetch. Did I mention that he is soft and silky and adorable? Sincerely, Nicole Goodwin
We love our Labradoodle! The kids named him "Mojo" and he is the perfect fit for our family. His personality is just as you said - mellow and loving. He curls himself up at our feet at every opportunity. When I take him to school to pick up the kids he flops himself down with dozens of kids around and waits for a belly rub. At three months old our friends with dogs couldn't believe he was a puppy -- he has been so well behaved. I had another friend over when Mojo was about 4 months. Their toddler kept putting her hands in his dog food and feeding him by hand -- not once did he nip or get upset. He is just such an easy going dog. We took him to puppy training and he picked up things immediately. He was toilet trained within weeks. He only had a few accidents when he was very young and that was it. He understands "come", "sit", "lie down", "leave it", "heel", "outside", "ball", "bring it". He gets a huge walk on the dike in boundary bay every day, he plays well with other dogs and chases birds. At the end of the day he cuddles up with me and the boys for books before bed. He is great with kids. He loves my boys and they love him. (I sometimes think Mojo believes he is just another brother.) The vet says he is very healthy. He is losing his baby fur too and it looks like he will have a very nice coat. A little curlier on his head and rump -- the rest of him is wavy. So far he has not been shedding -- just losing his baby fluff as mentioned but that's it. I don't have any hair around the house. At about 3 or 4 months some strange wiry hair popped along his back but the vet said it could just be temporary growth in colder weather - possibly something called "hemp fibre". It is now growing out and the hair coming through underneath is very soft. His coloring is beautiful and his face is very handsome. I get a lot of compliments on both his look and demeanour. Darlene Morrison / Heidemann
Labradoodles for sale, Kamloops,BC., Red, Apricot, Cream, Chocolate, Black, Labradoodle Puppies for Sale.