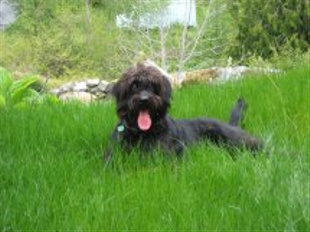 Chloe lives in Vancouver Island, B.C.
Chloe is so good, the first night we took her home she slept all through the night and I took her out early in the morning and she did her thing. We really love her.
Chloe is wonderful, she is the best friend and so sweet. She loves to play fetch with the Chuck It ball, chases sticks on the beach, and she loves swimming. We couldnt be happier with our choice of puppy.
Chloe is a gentle dog and if another dog wants her ball, she drops it for them. There wont be any fights over the ball. Thank you for my friend, Fondly, Penny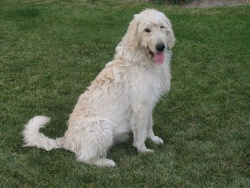 Charlie lives in Summerland, B.C.
Charlie is such a great dog. He's been to the beach lots the last couple summers, but this is the first summer he's started swimming. He swims like a fish now, chasing sticks and tennis balls, and he loves it. He also LOVES truck rides. Charlie gets along great with our other dog, and I take them almost everywhere with me. Mr. Stevens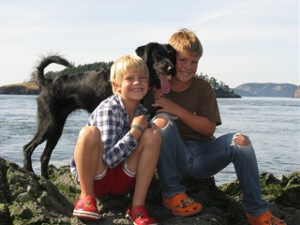 Quincy lives in Coquitlam, B.C.

Quincy is absolutely lovely. She is such a good dog. Very mellow, but loves to play and go crazy when in the mood. Everyone who meets her, loves her and can't believe she is only a year old because she is so well behaved. She does not bark at all and plays well with all other dogs. We live in a great neighbourhood with a big one acre field beside our house and one block from a 140 acre forest called Mundy Park. We've been camping with her all summer and she loves the outdoors. I run with her in the park and started Quincy in agility classes because she leaps like a deer and runs so quickly. People can't believe how high and far she can jump. Clears 12 foot ditches without breaking stride, maybe because her legs are a mile long. :)
The only problem we have with her is she licks us too much. :) The kids love it, but we are teaching her to stop it. We got a great dog! She is very snuggly and loving so Ethan got his wish. - Sheather family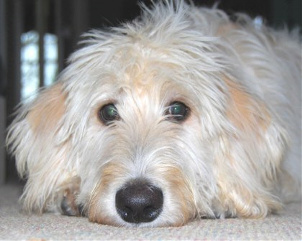 Cassie lives in Vancouver, B.C.

I take Cassie out twice-a-day with racquet and ball which excites her to the max. Well, filling her dish makes her more excited, but running after the tennis ball is sure next. Then trips to the beach. She comes with me every car ride and has the reputation around the neighbourhood as the white dog that sticks her head way out of the right back window! All is good. She's happy and healthy, as are we. Richard & Susan Dickson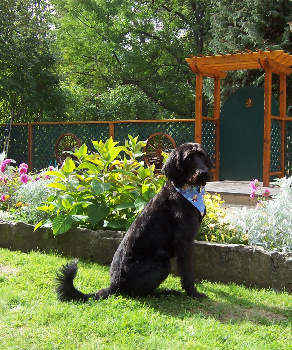 Bentley lives in Castlegar, B.C.

Our Bentley is terribly pampered here! Loves swimming, camping and hiking at Syringa Park, just 20 minutes from our house. We took him for a hike up the mountain and he ran the whole 3 hour hike. When we got back he did not move from his spot on the mat in front of the trailer door for 2 complete hours even when we stepped over him! He loves balls, milk jugs, squeaky toys, water, bones, homemade treats. He almost completely quit shedding upon turning one year old. Never changed color at all, but still has little tinge of brown on his mustache. We get him clipped and the beauty parlour about every 4 months and get his face trimmed in between visits so we can see his beautiful eyes. He loves riding in the car. Doesn't like the back of the truck too much, just sits back there and drools. He's so funny! Has just the cutest personality. Is a great guard dog. Is very smart; learns everything we teach him very quickly. His latest trick is we put a treat on his nose and tell him to leave it and he just sits there with the treat on his nose till we say OK, then he moves his head and eats it. He knows "go to your room" (that's for at night when he's going in his kennel for the night), "leave it" (this is for the chickens, the cat, and any food he's not suppose to lunge at), "sit", "lay down", "give". He is very sociable. He comes to the curling rink with me each week to watch our men curl in the mens league; greets everyone that comes through the door; sits right up on the benches with me ....... so funny .... thinks he's a person or something! We love him so much and just wanted to thankyou again for such a gift! -Opperman Family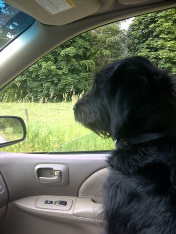 Lacy lives in Surrey, B.C.
Lacy. is doing very well and is 54 pounds! She loves to go to the park and play fetch, swim in the lake and go on long walks on wilderness trails. She is very well behaved and we could not have asked for a better family dog! - MacArthur Family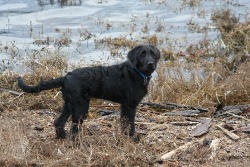 Jake lives in Vancouver,B.C.
Jake is adorable! Our family loves him. What a great dog! Tracy Hawley
Labradoodles for sale, Kamloops,BC., Red, Apricot, Cream, Chocolate, Black, Labradoodle Puppies for Sale.